8+ Best OCR Apps For iPhone: Easily Convert Images to Text!
Reading Time:
8
minutes
There are several excellent apps that can assist you in easily converting text into digital files such as PDFs or images. Here are 8 of the Best OCR Apps For iPhone:

CamScanner, Quickscan, Adobe PDF, Scanner, Google Keep, Microsoft Lens, Evernote Scannable, and Genius Scan are some of the scanning applications available.
Best OCR Apps For iPhone (Free and Paid)
There is a high demand in today's data-driven world for storing data from printed or handwritten documents to computer storage disks so that the data can be reused and processed for multiple business operations (OCR Software). Document processing is an essential part of business operations, but it consumes a significant amount of the user's time. Data entry has always been a time-consuming task, and businesses are always looking for new ways to automate it. Whatever solution is used, it must be efficient enough to accurately retrieve and populate data, especially in the case of financial and identity documents.
To effectively address this issue, OCR technology was developed. The work of data entry operators is being precisely replaced by automated data entry solutions. OCR technology was originally created to replace the data entry process, and it has advanced significantly since then.
What is OCR?
Before going into the Best OCR Apps For iPhone, let's discuss what is OCR anyway?
Optical Character Recognition (OCR) is a technology that mechanically or electronically converts images (scanned or printed documents, for example) into machine-encoded text. OCR, which is widely used to extract information from passports, invoices, identity documents, bank statements, and other documents, is a popular method for digitizing image text. The extracted data can be electronically displayed, edited, and saved before being used in cognitive computing and machine learning. Simply put, OCR technology reads and extracts data from image documents, which is then used for pattern recognition.
The older OCR technology was not fully automated and could not function properly under manual supervision. Strict rules and templates were required for proper operation. Nonetheless, these solutions were incapable of processing context and lacked self-regulating mechanisms, necessitating manual intervention.
When dealing with documents whose formats and templates have been pre-loaded into the system, traditional OCR works quite well. However, there is a significant issue with flexibility. This means that for each type of document, a new template model must be created and loaded into the system. This is a time-consuming and costly process, similar to manual data entry.
As a result, artificial intelligence is being integrated into OCR to create a flexible and dependable automated process.
Benefits of using Best OCR Apps For iPhone
There are several advantages to using an iPhone-based OCR app. The app can convert documents into text or images, making it an excellent tool for a variety of tasks.
The fact that an iPhone-based OCR app can be used in a variety of situations is one of its advantages. An OCR app, for example, can be used to convert difficult-to-read documents, such as handwritten notes or old manuscripts. An OCR app can also be used to convert documents in a foreign language, making them easier to understand.
List of the Best OCR Apps For iPhone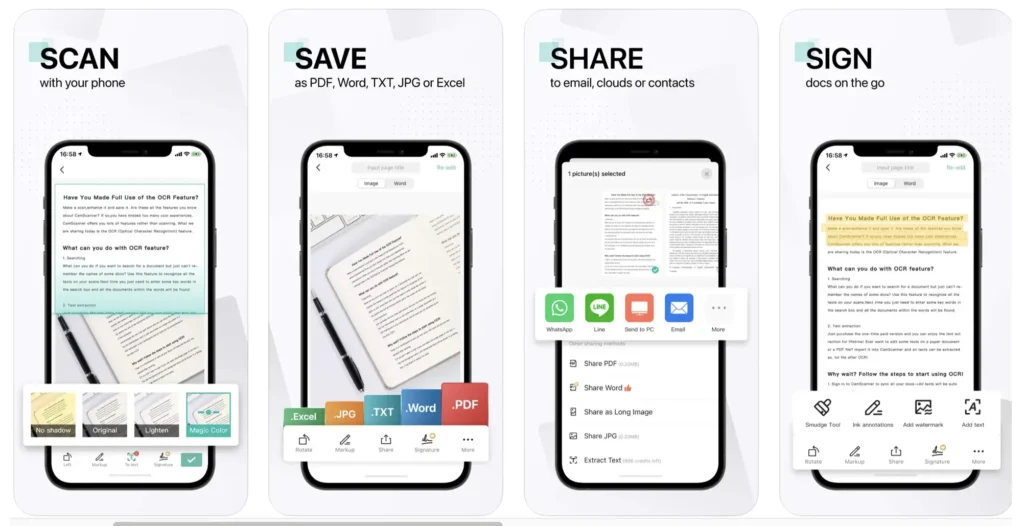 Price: Free (In-App Purchase)
If you want a feature-rich document scanner app for iPhone and iPad, try CamScanner- PDF Scanner App. This iOS app includes intelligent OCR integration that can recognize a variety of documents and formats. Additionally, you can apply various filters and edit scanned documents.
It can easily save and store EXCEL, JPG, TXT, WORD, and PDF files. Once a document is saved, it can be converted into various formats, digitized, and password protected to ensure the content's privacy. When using this app, you can continue a task across multiple devices.
Features:
Scan and support a variety of file formats
OCR is capable of recognizing multiple text styles and formats
Options for converting multiple files
Text on PDF can be signed, annotated, or edited.
Documents can be saved, shared, or worked on across multiple devices.
Price: Free (In-App Purchase)
QuickScan: Document Scanner is an option for ultrafast document scanning. It is one of the best OCR scanner apps for iPhone and iPad on our list, and it can really help you when you need it. It has a variety of features, including lightning-fast document scanning from a variety of sources and formats.
On the other hand, you can lock documents and manage the security of your content here. When that is on the check, you have access to additional text editing and annotation features. Furthermore, this app's OCR is precise and provides accurate text extraction. Finally, there will be no issues with document saving or sharing.
Features:
Rapid document scanning
OCR for accurate text extraction
Excellent document editing capabilities
Options for document management and security
It is simple to save and share documents.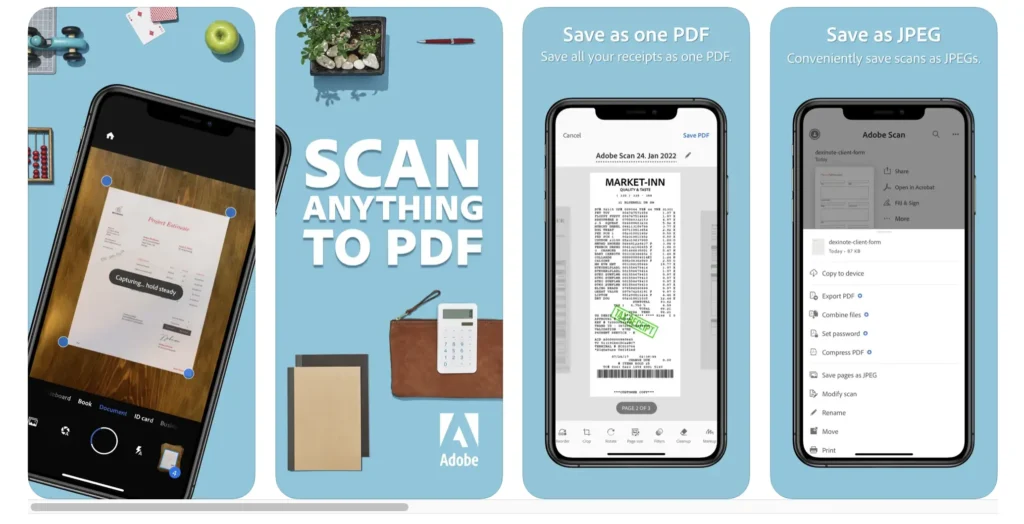 Price: Free (In-App Purchase)
Adobe Scan can fill the need for a powerful document scanning and editing tool for your iPhone and iPad. Adobe already has a strong presence in the field of desktop and Mac document and image processing.
They have now released Adobe Scan: PDF & OCR scanner, which is one of the best scanner apps for iPhone and iPad. With your eyes closed, you can rely on its OCR-based document and image scanning. The editing equipment is of the highest quality. You can use this app on your iPhone to perform a variety of document conversion, management, and sharing tasks.
Features:
Scan any documents or receipts into PDF directly.
Strong OCR for precise text extraction.
Convert any PDF to JPG format.
Documents can be combined, compressed, password-protected, and edited.
Scanning, copying, cropping or cleaning a portion of scanned content
Change the layout and text border instantly and easily.
Price: Free (In-App Purchase)
If you're looking for a document scanner that only extracts excel content, tries Scanner PDF- scan document. Although this app can scan and save standard PDFs, images, and handwritten documents, it specializes in extracting tables and excel documents.
In addition, the app includes an integrated translator that can translate the languages of the scanned document. The app can track and count objects while also adding signs and annotations to saved documents. Once completed, you can export the document online or fax it directly from the app.
Features:
Scan any document precisely.
OCR can extract text, handwriting, tables, and excel spreadsheets.
Intelligent object counter Translation functions from saved data
Last-minute document editing and sharing features that work well
Price: Free
Google Keep is a note-taking service that is part of Google's free, web-based Google Docs Editors suite. Google Docs, Google Sheets, Google Slides, Google Drawings, Google Forms, and Google Sites are also part of the service. Google Keep is available as a web application as well as an Android and iOS mobile app. The app includes a number of note-taking tools, such as texts, lists, images, and audio. Optical character recognition can extract text from images, and voice recordings can be transcribed. Later updates added the ability to pin notes and collaborate on notes in real-time with other Keep users.
Features:
Google Keep allows users to create various types of notes, such as texts, lists, images, and audio.
Users can set reminders that are integrated with Google Now, with time and location options.
Optical character recognition technology can extract text from images.
Keep automatically transcribing voice recordings it creates.
Keep is capable of converting text notes into checklists.
A single-column view and a multi-column view are available to users.
Color-coded notes are available in white, red, orange, yellow, green, teal, blue, and gray.
Users can copy all text into a new Google Docs document by clicking the "Copy to Google Doc" button.
Users can make notes and lists by speaking.
Labels can be used to categorize notes.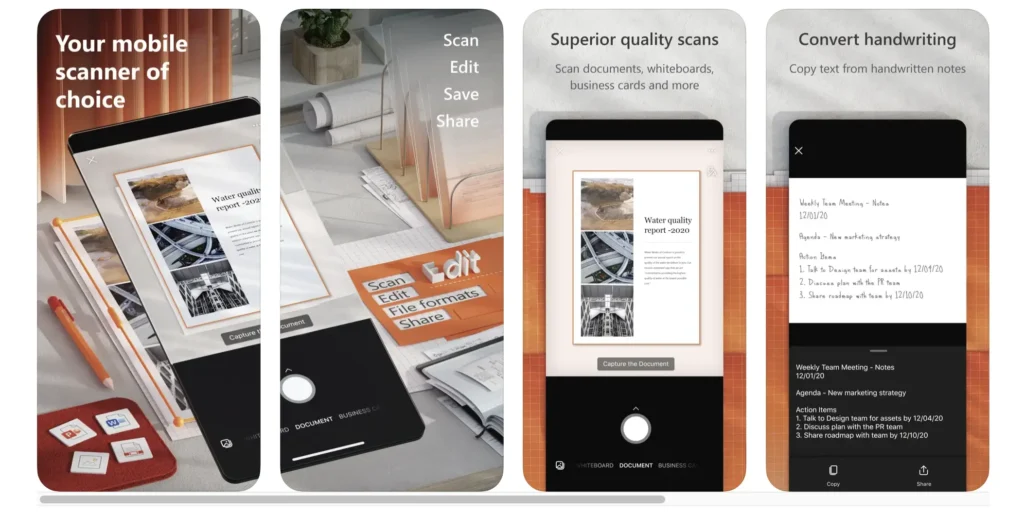 Price: Free
Microsoft has released a powerful document scanner app for the iPhone and iPad. But what sets it apart is its powerful functionality, which is available for free. Microsoft Lense: PDF Scanner is free, but that doesn't mean it has limited functionality.
Microsoft Lens, like other top-tier mobile scanner apps on the market, allows you to easily scan, edit, save, and share documents. With this product, you can expect error-free scanning functions. If that isn't enough, the Well-integrated OCR algorithm extracts text and tables with high accuracy from both handwritten copies and JPG image sources.
Features:
Handwritten or image scanning that is quick and dependable
OCR with high accuracy for text and table extraction
Handwritten content is quickly recognized and converted.
Excellent document editing and sharing
Can read and share a variety of content formats
Price: Free
The Evernote Scannable app is the last in our list. Despite being at the tail end of this list, don't underestimate its functional capabilities. For a variety of reasons, this app is regarded as one of the best OCR scanner apps for iPhones and iPad. For starters, it is known for its fast and dynamic file-scanning capabilities.
Next, Studio Scansnap's handy document scans using remote devices are fantastic, especially if you work in an office. The app is kept tidy, with no unnecessary functions or buttons, making it one of the easiest-to-use document scanner apps on the market.
Features:
Quickly scan documents
Can scan a variety of documents and receipts
Documents can be saved and shared instantly.
For remote document scanning, use Studio Scansnap.
Price: Free (In-App Purchase)
The Genius Scan- PDF Scanner App is the next best document scanner app on our list of the best OCR scanner apps for iPhone and iPad. The app is simple to use but packed with useful features. Quick document scanning is one of the features, even when multiple pages must be saved at the same time.
Next, the document editing feature on this product is quite powerful. Furthermore, the document management and saving options on Genius Scan are quite useful. When necessary, this app provides good document protection as well as top-notch content-sharing capabilities.
Features:
OCR for extracting text from multiple documents
Document editing and modification tools that work
A viable option for document management
Integrated security features to safeguard confidential documents
When necessary, use the app to share documents.
Useful links