The 5 Best Cloud Storage Alternatives for People Who Love Organization
Reading Time:
9
minutes
It might be challenging to select the finest cloud storage solution for your unique requirements, especially if you don't know what to search for. This article will define cloud storage in detail and explain why it is a good idea to save your files in the cloud in the first place.
You have many options to pick from because the majority of the biggest platforms in the cloud storage sector offer a variety of free, personal, premium, and commercial plans. If your files are mistakenly lost or erased, you can avoid a lot of hassle by choosing a cloud storage and backup provider.
Despite the fact that there are several excellent free cloud storage plans available, we'll be concentrating on premium solutions, including the best cloud storage for businesses. Premium plans provide people a ton of fantastic features and capabilities, including file syncing and secure cloud systems, even if they don't own a business.
<>

<>
What is cloud storage?
You can save or retrieve files from a remote virtual location called cloud storage, which is often located in a data center. Since it's crucial to know a cloud storage service can be trusted with your files, the majority of providers take great care to ensure its security.
As per market needs, they'll use a secure encrypted connection to upload and download things. Data centers with the highest levels of security make sure that nobody other than authorized users has access to their servers, and even if someone did, cutting-edge encryption would keep the intruder from reading your data.
Numerous services use some sort of cloud storage as their power source. Although they are still primarily cloud storage with specialized programs or web interfaces to provide some extra functions, you may find them referred to as online backup, cloud backup, online drives, file hosting, and other terms.
However, you won't have to travel very far because there's a strong possibility you already have access to a cloud storage service. For instance, free Google accounts come with 15GB of cloud storage space via the Google Drive program, while Facebook and Twitter offer free cloud storage when users can save photographs and videos on their servers.
Which is the best cloud storage service?
Look no further than IDrive if you're looking for the greatest cloud storage solution overall. The paid version only costs $3.98 for 10TB for the first year and features a simple setup process and unlimited devices per account. One of the best free cloud storage options, as well as the best cloud backup and storage. Another service competing for the title of best cloud storage provider is PCloud, which offers features like built-in players, potent file sharing tools, and affordable lifetime plans.
As you may expect from the name, Sync simply accomplishes file syncing, but it does this quite effectively and is incredibly simple to use. Currently, when you buy Backblaze with ExpressVPN, you receive one year of Backblaze for free. Backblaze is a complete backup program with unlimited capacity. Additionally, IceDrive offers simple access to your cloud files for a very low initial cost if you're seeking for simplicity.
The 5 Best Cloud Storage Alternatives for People Who Love Organization!
Best all-rounder thanks to its stack of features, top security and rock bottom prices
Pros
Connect as many devices as you need without irritating restrictions.
Fantastic backup tools
Highly customizable
Apps that are simple to use practically everywhere (and web access if you need it)
Cons
Not available one time payment
<>

<>
IDrive tops our list of the best cloud storage services thanks to its compelling combination of user-friendly interfaces, superior backup tools, robust security, and a low price. Everywhere there are distinctive qualities. A lot of hardware to safeguard?
You can install it on whatever many devices you like. One device's addition or modification of a file can be instantly synchronized with all the others. Additionally, thorough backup options enable you to secure anything, from specific files and folders to producing a whole image of your device for quick catastrophe recovery. (IDrive can even mail you a physical disk with all your data on it; this is a significant plus if your internet connection is slow and the download will take a while.)
Two-factor authentication safeguards your account no matter what you're doing, and end-to-end encryption assures that no one will even be able to get a glimpse of your data. If you're not the technical type, that's alright too: you can set up IDrive in seconds and forget it's there, leaving the service to do its work. Highly adjustable apps enable modifying all kinds of low-level parameters (bandwidth throttling, data verification).
There is also a fantastic offer running right now that offers 100GB for just $3.71 for first year and 7.43 for 2 years. The company even offers a free-forever plan with 10GB of space, ideal for trying out the service and making sure it's good for you, in case you're still unsure.
<>

<>
---
pCloud
Best for value if you're happy to pay a one-off fee.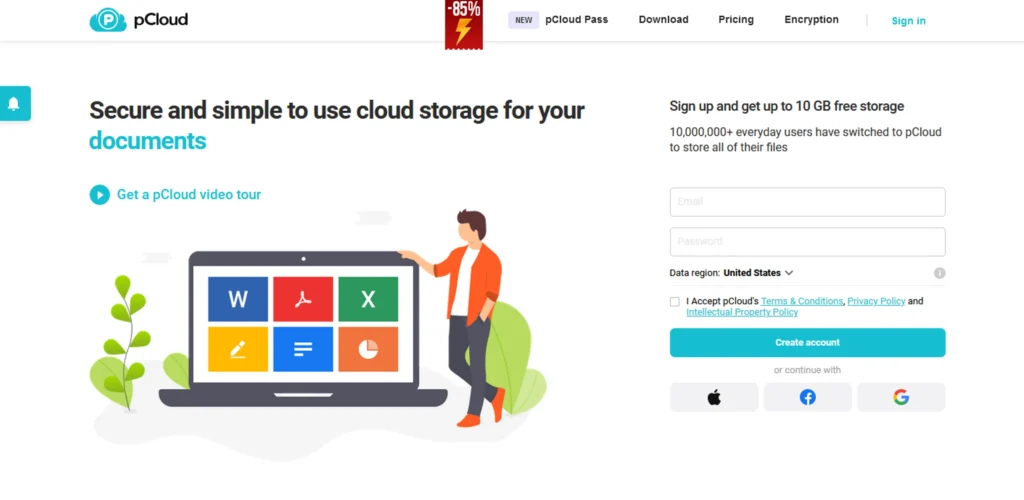 Pros
Great value lifetime plans
Wide range of apps and browser extensions
Play media files without downloading
Custom branding for download pages
Business plan restores versions up to 180 days old
Cons
A comprehensive cloud storage solution with a host of necessary backup, sharing, and file management functions is provided by Swiss-based pCloud. It's simple to start. Custom Windows, Mac, Linux, Android, and iOS apps copy your files to at least three different pCloud servers for additional security after uploading data through a secure TLS/SSL connection.
You can freely share important files with others and sync them across all of your devices (up to the recommended five per plan, however). Although they are a possibility, we're not just talking about simple download links here. Users of PCloud can design unique download pages with customized messages for each shared file. You may create slideshows using shared photographs, and you can even use your storage space to play audio or video files (no need to download them, first.)
At first sight, everything seems expensive, but if you choose one of pCloud's lifetime plans, you may get 500GB (or 2TB, or 10TB), forever, for a little one-time fee. Additionally, it intends to provide up to 16TB of cloud storage, though specifics have not yet been confirmed. By choosing the business plan, you may access a number of useful extras, like client-side encryption, central personnel administration, secure file sharing, and the capacity to restore files up to 180 days old (up from 30 in the personal plan.) Additionally, the price is fair.
---
Sync.com
Best for out-of-the-box security
Pros
Easy to use
Excellent speeds
Microsoft 365 support
Integrates with Windows File Explorer, Mac finder
Cons
Single folder sync
exceedingly high prices
Install the software on all of your hardware, drop a file into the Sync folder on one device, and it will instantly appear on all the others with Sync.com's simple file synchronization service. The apps are incredibly simple to use and still manage to outperform many providers in other respects, despite the fact that this design restricts Sync's backup capabilities (you can only safeguard content in the Sync folder).
You can recover file versions from the previous 180 days with versioning support, for example (most providers stop at 30 days.) As you shoot images and videos, the mobile apps can sync them for you immediately. The ability to generate read-only, password-protected, or expired links, as well as limit the number of downloads, are all features of sophisticated file sharing.
Users of Microsoft 365 can edit and open Office documents right in their Sync space. It is simpler to discover what you need when you can browse your files directly from Windows File Explorer or Mac Finder. Additionally, your data and transfers are protected by security features including end-to-end encryption and two-factor authentication.
There are numerous team- and business-friendly features. You may examine activity logs, share folders with teams, add comments to file sharing links, request files from numerous users, and manage everyone from a single panel. Even the most affordable 2TB Solo Basic plan costs $96 a year, which is more expensive than others, but if Sync's feature set fits your needs, it might be a wise decision.
---
Backblaze
Best for backups, and a year for free with our exclusive deal
Pros
No storage or file size limits
Free for a year when purchased with ExpressVPN
Easy to use
Can send you up to 8TB of data on a hard drive
Cons
No features beyond backups
Each account covers a single PC or Mac device only
Backblaze adopts a more straightforward strategy: it only handles personal and business backups, in contrast to other cloud storage services that attempt to offer every conceivable file sharing and syncing feature. Fortunately, the business excels at doing this. For example, all plans include unlimited backup capacity with no file size restriction.
On this list of suppliers, how many can make that claim? (We'll look for you and say none.)
Are you concerned that downloading everything would take a very long time? No issue; the business will send you a hard drive containing your data (up to 8TB.)
Backblaze is quite simple to use; after installing the Windows or Mac programs (there aren't any mobile backups, unfortunately), the system will automatically detect changing files and transfer them to the cloud. Two-factor authentication is a clever security measure that safeguards your account, and a private encryption key ensures that no one—not even Backblaze—can access your files online. Fair pricing is used. Although there is no free tier, a 15-day trial gives you a chance to evaluate the service.
However, if you're also searching for a VPN to secure your online privacy, you can presently join up for our #1 recommendation, ExpressVPN, and receive Backblaze for a full year at no cost (and you get three extra months of ExpressVPN protection, too.)
---
Internxt
Strong on security with some pleasing privacy touches
Pros
Advanced security features
Reliable customer support
Easy-to-use interface
Cons
Limited collaboration options
Short on advanced features
Internxt is a security-focused company that goes above and beyond the norm to protect your information. Your data is protected with end-to-end and zero-knowledge encryption, and after being uploaded, your files are divided into pieces and distributed throughout a peer-to-peer network. In addition to protecting your data from hackers, storing it across numerous servers lowers your risk of losing files due to hardware failure or other disasters. Drag & dropping files into an app can upload them with the ease of a mouse click.
You may simply share files via personalized URLs and keep all of your devices up to date by being able to sync any folder. A password checker to spot weak passwords and even a free virus scanner to find and get rid of viruses from your files are unusual supplementary services offered.
There are problems with Internxt as well. It cannot compete with the sophisticated features offered by OneDrive or Dropbox. Prices are more than most; there is a 10GB free plan, but it's difficult to use the entire allotment (you have to subscribe to the newsletter, invite four friends and more.) However, Internxt has a lot of appeal due to its security-first philosophy and high-quality apps, and if that's what you're looking for, it more than merits a spot on your shortlist.
Conclusion
Thinking about your requirements is the first step in locating the ideal cloud storage service. What do you expect the service to accomplish?
If safeguarding all of your data is your priority, seek for a solution that offers reliable backup tools and remote file access.
You'll need speedy and simple synchronization capabilities if you want to share a collection of files—say, photos—across different devices.
If sharing certain files or folders with others is more appealing to you, seek for a platform that offers password-protected or time-limited links—anything that will keep you safer. Collaboration features, which enable users to work on files jointly, contribute comments, and more, will also be advantageous to businesses.
Take note of the numbers. For example, the majority of cloud storage maintains older versions of your information for up to 30 days, although this isn't always the case. It's wonderful if your supplier claims to offer "versioning," but make sure you look into the specifics and compare it to the alternatives.
Be cautious when taking a provider's price and capacity into account. Consider whether you actually need that much space before choosing a high-capacity plan just because it offers better value. And when it comes to the cost, read the fine print, keep an eye out for any additional fees or hidden costs, and make sure you fully understand what you're getting.