IFTTT: The Ultimate Tool for Automating Your Life in 2023
Reading Time:
4
minutes
What does IFTTT stand for?
IFTTT stands for"If This Then That."It is a free web service that assists users in automating web-based tasks and increasing productivity. IFTTT connects devices, services, and apps from various developers to create "applets" that automate tasks.
What is IFTTT?
IFTTT is a website and app that allows you to create channels that connect various services and devices. IFTTT allows you to create chains of simple recipes that can automate tasks across your devices.
For example, you can create a "recipe" that sends an email alert whenever your Jawbone UP fitness band detects a new walk or run. You can also create recipes that control your home devices, such as turning on your lights when you arrive home or turning off your alarm when you go to bed.
IFTTT connects over 700 apps and services, including Twitter, Dropbox, Evernote, Fitbit, Amazon Alexa, and Google Assistant. We combine services into Applets, which are automation that allow you to do things that your apps and devices cannot do on their own.
IFTTT also has an ever-expanding list of "channels" (such as Twitter, Gmail, and Facebook) where you can create recipes that work with those services. You can, for example, create a recipe that tweets your most recent blog post whenever you send a new email, or one that posts your Facebook status whenever you add a new item to your shopping list.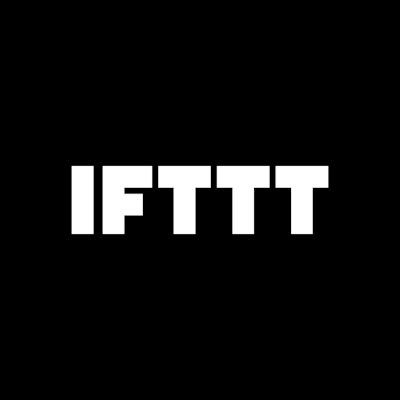 Why should I use IFTTT?
With IFTTT, you can automate a variety of tasks, such as sending notifications when a certain event happens or backing up data to the cloud.
By using IFTTT, you can save time and energy by automating simple tasks that you would otherwise have to do manually.
Through IFTTT, you can take the mundane tasks of your daily life and automate them so that you can spend more time focusing on the things that matter.
Furthermore, IFTTT can provide peace of mind, allowing you to trust that your most important tasks are taken care of without the need for manual intervention.
With IFTTT, you can save yourself time and energy while also providing a sense of security that your important tasks are being taken care of in the background.
By automating your mundane tasks, you can use that time to focus on the important things in life and have peace of mind knowing that your most important tasks are being taken care of.
Whether it's setting up an email alert for when the bank balance drops below a certain amount or having your lights automatically turn on when you get home from work, IFTTT can make your life easier and provide security that things will be done without.
With IFTTT, you can enjoy a sense of security and peace of mind knowing that your tasks are automated and taken care of.
Additionally, with IFTTT you can enjoy a sense of freedom, being able to focus your energy and time on the things that truly matter to you.
IFTTT is also a great way to connect with other people who are interested in automation.
What are some of the benefits of using IFTTT?
IFTTT is a popular tool for automating tasks and connecting various services.
IFTTTers have a lot of options when it comes to creating automation and integrations that help everything work better together, thanks to the billions of enabled and created Applets.
We've compiled a list of the year's most popular Applets. Check to see if your favorite Applet made the list, or be inspired to enable a new one right away.
Here are a few advantages of using IFTTT:
IFTTT can make your life easier by automating routine tasks.
IFTTT can link you to a variety of services, including Facebook, Twitter, Gmail, and others.
IFTTT can save you time by automating routine tasks.
IFTTT can assist you in connecting with friends and family.
How can you use IFTTT to automate your life?
Remember your favorite restaurants, landmarks, and other special places.
Make your email inbox more automated.
To an existing Evernote to-do list, add a new task.
Turn off your lights without getting out of bed.
Tweet something on Twitter.
Share multiple images at once.
Create a new Google Calendar event.
Back up and organize your photos as soon as you return from your vacation.
What are the 20 Best IFTTT Applets?
If This Then That (IFTTT) connects activities from different digital services and devices. Here are some of our favorite applet combinations.
Get the weather forecast every day at 7:00 AM
Tweet Via Voice
Text your lost Android phone to turn the ringer volume up 100%
Turn Down the Ringer
Talk-to-Text Using Google Assistant & Android
Send iPhone Screenshots to OneNote
Keep Up With Giphy's Latest
Music button
Save Receipts to Evernote
Learn When the ISS Is Overhead
Hey Google, Find My Phone
Back-Up New iOS Contacts
Alexa, Call My Device
Smarter Scheduling with your Location
Emergency Anniversary Reminder
Tweet Your Instagram
Get an email with the latest IFTTT updates
Quickly Create Events in Google Calendar
Get Lit at Sunset
Back up your new Android photos to Google Drive
Conclusion
IFTTT began by attempting to convert some of the information encoded in popular digital services into triggers that could result in some type of action.
IFTTT's service became a simple way to create automation among those who were adopting the smart home technology that began appearing in 2012 and 2013.
IFTTT has created the technical infrastructure required for data sharing and will soon create the business infrastructure.
Useful Links