Best 20+ Free Apps You Can't Live Without Now
Reading Time:
17
minutes
Apps are the most effective way to keep yourself entertained and occupied. There are many apps available to help you whether you want to kill time or use your skills in a new way. Here are the top 23 free apps you can't live without right now:
Do we need to download a browser app for mobile?
Web browsers are programs used to access websites. The browser obtains the page's files from a web server and then shows the page on the user's screen when they request a web page from a certain website. On a variety of gadgets, such as PCs, laptops, tablets, and smartphones, browsers are used.
Although they are sometimes misunderstood, a web browser and a search engine are not the same. One website that offers links to other websites is a search engine. However, a user must have a web browser set up in order to connect to a website's server and view its web pages. Browsers are known as user agents in certain technical circumstances.
As per similarweb with a 59.8% global market share across mobile devices, Google Chrome is the most popular browser, followed by Safari with 32.7 %.
The difference between HTTP and HTTPS?
A web browser's function is to retrieve content from local or the World Wide Web and display it on the user's device. The user must enter a Uniform Resource Locator (URL), such as https://www.skyhightex.com/, into the browser to start this process.
Almost all URLs can be obtained by using the Hypertext Transfer Protocol (HTTP), a set of guidelines for data transmission. If the URL employs HTTPS, the connection between the browser and the web server is encrypted for the protection of information privacy and communications security.
---
So, What are the best Apps You Can't Live Without?
Here we are going to divide them into five categories as follows:
Email Messaging Apps
Android's email app situation is a bit of a muddle. Two email programs are typically pre-installed on most phones: Gmail from Google and one from the phone manufacturer called Mail or a similar name. I wouldn't really recommend the default mail programs provided by the manufacturers because they are typically simple but adequate. On the other hand, Gmail is fantastic and, despite its name, it also integrates with other well-known email providers.
Whoever has used the Gmail web app before will be somewhat familiar with the Gmail app. Your incoming emails are automatically sorted into different inboxes by Gmail's three intelligent categories: Primary, Social, and Promotions.
If you use another service (or don't enable smart categories in your Gmail account), it functions as a more conventional email client with a single Primary inbox. Even though it's still fantastic, Gmail users undoubtedly have the finest experience.
The Gmail app is quick and simple to use. Swipe on an email to archive it or tap it to open it. It isn't revolutionary, but it is a really useful mobile-focused experience. That's actually one of the finest things you can say about the Gmail app: it was created specifically for cell phones rather than being a scaled-down online version.
Gmail ought to be the first program you look at if you have an Android phone. It has already been installed, is quick and cutting-edge, and it raises the bar.
Most people are surprised to learn that Outlook is one of the top email apps for iPhone users. It strikes a fairly good balance between power and usability.
Even while Outlook's desktop version is a powerhouse, some users complain that it has too many functions. On iOS, that is not a concern. With enough extra features, it's a pleasant, quick, and contemporary email app that stands out from the competition. A built-in calendar allows for simple scheduling, and it interfaces with OneDrive, Google Drive, and Dropbox so you can manage your files conveniently.
Outlook divides your inbox by default into the Other Inbox for the rest of your emails and a Focused Inbox for the ones that are most important to you. Although it requires some fine-tuning, it does allow you to scan your inbox while on the go without becoming slowed down. To do this, tap the three small dots, then select Move to Focused Inbox on any message that ends up in the wrong place.
Overall, Outlook is a fantastic choice for anyone who finds Apple Mail to be a little too basic. It's also free.
---
GPS Apps
What does Google Maps do? A web service called Google Maps offers comprehensive information on locations and geographical features all over the world. Aerial and satellite views of many locations are available on Google Maps in addition to traditional road maps. Google Maps provides street views, which are images captured by moving vehicles, in some cities.
As a part of the larger web application, Google Maps provides a number of services. For instance, a route planner provides instructions for people using cars, bicycles, walking, and public transportation to get from one place to another.
If a GPS is accessible on an iOS or Android mobile device, combined with information from wireless and cellular networks, Google Maps for mobile delivers location services for drivers.
Does Here work the same as Google Maps? Location Services and Mapped data are combined with HERE Platform APIs and SDKs to create a cloud-based mapping suite.
Create safe location intelligence apps that are tailored to your organization's use cases by combining HERE's tools and location data with your own reliable data.
The large range of extremely useful data and operations covered by the HERE APIs ranges from the fundamentals, such as geocoding, to traffic and weather information, multimodal routing services, and fleet telematics.
Due to the quality of its data products and location services, HERE is acknowledged as a top digital mapping platform. The adaptable terms of service and the enormous volumes of traffic, road, and location data made available by HERE definitely set it apart.
Together with more than a hundred location analysis tools, including geocoding, routing, and asset management, HERE data enable a wide range of application scenarios for programmers. Talking with a HERE partner who can help you get started is the best way to do it.
---
Meeting Apps
Google Meet is a platform for video conferencing. Google Meet is now accessible to everyone for free when previously it was exclusively available to enterprise customers. Additionally, it's accessible via the web, Android and iOS mobile devices, and tablets.
The main purpose of Google Meet is to facilitate video conferences. However, you can turn on the camera and microphone separately, allowing you to use them solely for audio calls if you prefer.
You can make ad hoc calls and invite your loved ones. They can join by keying in your meeting code, or you can send them a link to click on.
The fact that Google Meet requires no desktop software installation is one of its best features. The only requirement for the call is that everyone on it, including the host and participants, use a current web browser.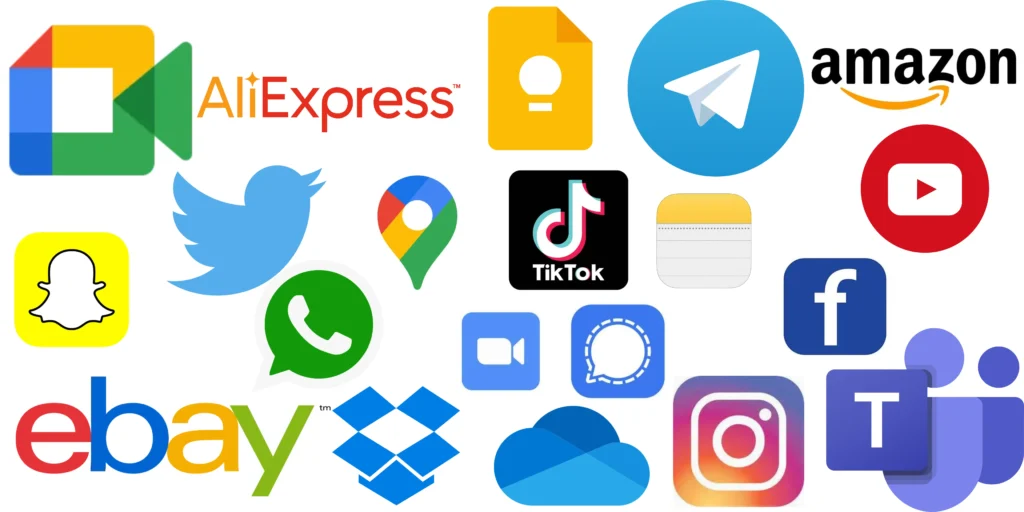 Zoom, a videoconferencing service whose popularity has increased in response to the Covid-19 pandemic, asserts that it uses end-to-end encryption, which is generally regarded as the most private method of internet communication and which shields conversations from prying eyes. In actuality, Zoom uses a definition of the phrase that it created on its own, allowing Zoom to access meetings' unencrypted video and audio.
Business is booming for Zoom as a result of the coronavirus slowdown, which has caused millions of people to work from home. This has raised awareness of the company's privacy practices, including a later-updated policy that appeared to permit the company to mine messages and files shared during meetings for the purpose of ad targeting.
However, Zoom provides dependability, usability, and at least one extremely significant security assurance: According to Zoom's website, security white paper, and user interface within the app, end-to-end encryption is used to protect meetings as long as participants connect using "computer audio" rather than phoning in on a phone.
However, despite this deceptive marketing, the service actually does not enable end-to-end encryption for video and audio traffic, at least not in the sense that the phrase is typically used to describe it. Instead, it provides what is commonly known as transport encryption, which is detailed further below.
Microsoft Teams is a collaborative platform built around persistent chat that offers several incredibly practical capabilities for business communications, including document sharing, online meetings, and much more.
To be able to think creatively and communicate with one another, a team has to have a great workspace. Shared workspace software makes this much simpler to accomplish, especially if a given team is headquartered in a very large firm, has many remote employees, or is composed of a sizable number of team members.
The unique features of Microsoft Teams, which unifies all products under one roof, set it apart from competing for collaboration tools ( both teams and networks, Teams' and channels' internal discussions, the ability to chat, the SharePoint document library, sharing a screen and making video calls online, Internet conferences, using audio conferencing, and a full phone system).
---
Online Shopping Apps
What is the Concept of Amazon? You can purchase items from Amazon, view and track orders, and access your account settings all in one place—pun sort of intended—with the help of the Amazon app. The Amazon app is definitely worth downloading because it offers nearly all of the same features as the Amazon website.
Be sure to check back as we'll keep this article updated with the newest Amazon app changes and additions.
Almost everything you could possibly need or want can be found on Amazon, an enormous online retailer. Using your preferred smartphone and the Amazon app, you can access Amazon's online store.
What do you know about eBay? eBay Inc. is a multinational American e-commerce enterprise with headquarters in San Jose, California, that enables both business-to-business and consumer-to-consumer purchases through its website. Pierre Omidyar launched eBay in 1995, and it quickly rose to prominence as a noteworthy dot-com bubble success story.
As of 2019, eBay is a multibillion-dollar company with operations in around 32 nations. The business operates the eBay website, a global marketplace where individuals and organizations may buy and sell a wide range of products and services. Buyers can access the website for free, but sellers must pay to list products after a set amount of free listings and another, separate price when the items are sold.
When compared to Amazon and other comparable businesses, AliExpress is a prominent online retailer where customers can purchase goods at significantly lower costs. Alibaba, a sizable Chinese multinational focused on e-commerce and computers and one of the biggest online corporations in the world, owns the shop, which was established in 2010.
You must first create a free account on the official AliExpress website by clicking the sign-up link in the top-right corner. By manually entering your email address in the registration form or by signing in with your Facebook, Google, or VK account, you can create a new account.
---
Random Apps
YouTube is a social networking and internet video-sharing service with its main office in San Bruno, California. Steve Chen, Chad Hurley, and Jawed Karim debuted it on February 14, 2005. After Google Search, it is owned by Google and is the second most popular website. Each month, more than 2.5 billion people use YouTube, watching more than one billion hours of video. More than 500 hours of content every minute of videos were being uploaded as of May 2019. Google stopped supporting the messaging feature on YouTube in October 2019.
YouTube was acquired by Google for $1.65 billion in October 2006, 18 months after the first video was uploaded and 10 months after the site's formal launch. When Google acquired YouTube, the site's business model changed from relying solely on advertising to also providing paid content like movies and other exclusive YouTube productions.
Additionally, it provides YouTube Premium, a paid membership service that allows users to watch content without commercials. The Google AdSense program, which aims to increase revenue for both sides, has also been approved by YouTube for creator participation. In 2020, YouTube recorded $19.8 billion in revenue. YouTube's yearly ad income grew to $28.8 billion in 2021.
Google Keep is Google's version of a note-taking app — but there's more to it than basic checklists or quick thoughts taken down in a moment of inspiration. For one thing, since it's made by Google, it automatically syncs to Google Drive, so you can access it from any device where you use your Google account, whether it be a computer, your phone, or your tablet. That way, you don't have to go digging around your various accounts or devices to find the right note.

Google's take on a note-taking tool is called Google Keep, but it's more than just a place to jot down brief ideas or simple checklists. For starters, because it was created by Google, it syncs to Google Drive automatically, allowing you to access it from any computer, smartphone, or tablet that is linked to your Google account. You won't have to search through your multiple accounts or devices to find the appropriate note this way.
Apple Notes iOS
Apple Inc. created the notes app known as Notes. It is offered on their mobile operating systems, iOS, iPad, and macOS, the latter of which debuted with OS X Mountain Lion. With the help of Apple's iCloud service, it serves as a tool for creating quick text notes that can be shared around devices. Similar user interfaces are used by the program on iOS and macOS, with light yellow symbols that resemble pencils or crayons and a background for notes that is not textured like paper. Both programs had a very skeuomorphic interface until 2013 that was designed to seem like lined, textured paper; the Mountain Lion version put this inside a leather folder.
---
Social Media Apps
The American business Meta Platforms is the owner of the social networking and social media website Facebook. The name of the social networking site, which was established in 2004 by Mark Zuckerberg and fellow Harvard College students Eduardo Saverin, Andrew McCollum, Dustin Moskovitz, and Chris Hughes, is derived from the Face Book directories that are frequently distributed to students at American universities.
Initially open only to Harvard students, membership has now grown to include students from other North American universities and, as of 2006, anybody over the age of 13. Facebook reported 2.93 billion monthly active users as of July 2022, and it was the third-most popular website globally at that time. The 2010s' most popular mobile app was that one.
Mobile phones, tablets, and personal computers that have Internet access can all access Facebook. User profiles that reveal personal information can be created after registration. They are able to share text, images, and other types of media with anyone they have designated as a "friend" as well as, depending on the privacy settings, with the general public.
Users can also engage in direct communication with one another via Facebook Messenger, join communities of interest, and get alerts about the activities of their Facebook friends and the pages they follow.
Instagram is a social media platform for sharing pictures and videos that are run by the American business Meta Platforms. Users of the app can upload media that can be altered using filters, arranged by hashtags, and categorized by location. Public or pre-approved followers may share posts. Users can view trending material, like photos, follow other users to add their stuff to a personal feed and browse other users' content by tag and location.
When Instagram first launched, it set itself apart by restricting content framing to a square (1:1) aspect ratio of 640 pixels, which matched the width of the iPhone's display at the time. This limitation was loosened in 2015 with the upgrade to 1080 pixels.
Additionally, it included messaging capabilities, the ability to post multiple photographs or videos, and a feature called Stories that was comparable to Snapchat's major rival and let users publish information to a feed that was sequential and viewable by others for a 24-hour period. In January 2019, 500 million people daily used Stories.
In many parts of the world, WhatsApp is a vital component of daily life, despite being a messaging program that is only marginally popular in the US. Unquestionably, the messaging program, which is owned by Facebook, is among the most well-liked in the entire world.
You must know that WhatsApp was among the first mobile applications to provide free, internet-based messaging in order to comprehend its widespread use. WhatsApp mostly relies on a Wi-Fi connection to send and receive messages and calls for free, as opposed to sending texts using cellular data networks, where there may be fees involved.
Today, regardless of device or location, WhatsApp is favored by more than 2 billion users due to its capacity to simplify communications.
In addition to being more user-friendly, WhatsApp has much more functionality and customizability than standard SMS messaging, all of which are provided without charge. Our favorite WhatsApp tips and tricks might be of interest to you if you're already familiar with the program.
The nonprofit Signal Foundation and its subsidiary, Signal Messenger LLC, developed Signal, a cross-platform centralized encrypted instant messaging service. Individual and group messages can be sent by users, and they can include files, voice notes, pictures, and videos. Additionally, it can be utilized to make individual and group audio and video calls.
The Android version also has an optional SMS app feature, although this feature will no longer be available after 2023. Standard cellular phone numbers are used by Signal as IDs, and end-to-end encryption is used to protect all communications with other Signal users. The client software has tools that allow users to independently confirm the legitimacy of the data channel and the identities of their connections.
The software used by Signal is open-source and free.
The official Android app often makes use of the exclusive Google Play Services, which are pre-installed on most Android devices, although it is also made to function without them. Additionally, Signal offers desktop applications for Windows, macOS, and Linux, as well as an official iOS and android client app.
With an initial investment of $50 million by Brian Acton, the nonprofit Signal Foundation was established in February 2018. The platform had about 40 million active monthly users as of January 2021. It had more than 105 million downloads as of May 2021.
TikTok is a social networking platform where users may upload and watch short videos. Videos range in duration from 15 to 60 seconds.
The format is ideal for humor and entertainment. However, infotainment uses for it is growing. On TikTok, so-called influencers who have a loyal following share quick pieces of guidance and advice coupled with self-promotion. Cooking, personal finance, beauty, and fashion are all common subjects in educational videos. The format is increasingly being utilized to market and sell goods.
TikTok, which debuted in its current form in 2018, quickly ascended to the top of the social media food chain. By September 2021, there were roughly 1 billion monthly active users worldwide.
By the end of the year, TikTok users are expected to have downloaded the app three billion times globally and spent $3 billion on iOS and Google Play, according to the 2022 marketing study.
Like many social media platforms, TikTok has been the subject of ongoing, if hazy, worries about how the personal data it collects about its users can be used or mishandled. The distinction is that TikTok is primarily owned by Chinese people.
Snapchat is a multi-media instant messaging service and software created in the United States by Snap Inc., formerly known as Snapchat Inc. One of the main characteristics of Snapchat is that images and messages are frequently only accessible for a brief period of time before they are no longer viewable by their recipients. The app has changed from its initial focus on peer-to-peer photo sharing to now including users' "Stories" comprising 24 hours of chronological content as well as "Discover," which allows businesses to offer short-form, ad-supported content.
Additionally, it enables users to save pictures in a "my eyes only" password-protected section. End-to-end encryption has apparently also been used, albeit in a limited capacity, with hopes to expand its application in the future.
Three Stanford University graduates who founded Snapchat are Evan Spiegel, Bobby Murphy, and Reggie Brown. It is well-known for reflecting a new, mobile-first trend for social media and places a strong emphasis on user interaction with virtual stickers and augmented reality objects.
There were 293 million daily active Snapchat users as of July 2021, up 23% from the previous year. Snaps are sent daily on average in excess of four billion. Parents have a lot of privacy worries about Snapchat because it is so popular among young people, especially those under the age of 16.
Free cloud-based instant messaging program Telegram is accessible on a variety of mobile and desktop operating systems, including Android, iOS, Windows, macOS, and Linux.
In 2021, the app experienced an abrupt increase in popularity after WhatsApp revealed modifications to its privacy policy that would permit it to exchange data with parent firm Meta.
No media size restrictions, end-to-end encryption in "secret chats," and a massive 200,000-person group chat capacity are just a few of the benefits that Telegram offers its customers.
In order to encourage developers to make their own Telegram bots, there is now a Bot API.
The program is known for being one of the messaging programs that prioritize privacy, along with Signal. The software allows reproducible builds, and Telegram's code is also open source.
The American firm Twitter, Inc. operates Twitter, a microblogging and social networking site where users can post and engage with messages called "tweets." Unregistered users can only view public tweets whereas registered users have the option to post, like, and retweet tweets. Through frontend apps for mobile devices or web browsers, or programmatically using Twitter's APIs, users can interact with the service. Services could be accessed using SMS up until April 2020.
In November 2017, the character limit for tweets in languages other than Chinese, Japanese, and Korean (CJK) was increased to 280. The typical account's 140-second limit on audio and video tweets still applies.
In March 2006, Jack Dorsey, Noah Glass, Biz Stone, and Evan Williams founded Twitter. The service went live in July of the same year. With more than 25 offices worldwide, Twitter, Inc. has its headquarters in San Francisco, California. In 2012, the service handled 1.6 billion daily search queries on average and had more than 100 million users posting 340 million tweets each day.
It was one of the top ten most visited websites in 2013 and has been called "the SMS of the Internet." More than 330 million monthly active users were using Twitter at the beginning of 2019. In reality, a small number of users compose the great bulk of tweets.
One of the largest transactions to take a firm private was approved by the Twitter board of directors on April 25, 2022, for a $44 billion acquisition by Elon Musk. On October 27, the sale was finalized after a protracted period of controversy and legal disputes.
---
Storage Apps
Dropbox is a service that hosts files and provides cloud storage, file synchronization, personal cloud, and client software. It is run by the American firm Dropbox, Inc., which has its headquarters in San Francisco, California, U.S. Drew Houston and Arash Ferdowsi, two MIT students, launched Dropbox in 2007 as a startup business with backing from Y Combinator.
Because of problems including privacy violations and security lapses, Dropbox has drawn criticism and controversy. Since 2014, China has restricted Dropbox.
OneDrive is a useful feature of Windows that allows you to save, sync, and share your documents and other files online. Microsoft also provides a OneDrive mobile app for iOS and Android. OneDrive files may be seen and opened using the app, along with recent files, photographs, and videos. You can also share files and manage all of your data. Additionally, you may use Microsoft Office Lens with the iOS and Android versions of the apps to use your camera to scan printed documents.
The biggest differences in the apps' functionality on the two mobile platforms are in which icons and functionalities are accessible and where they are located.
---
Useful Links